HR Development for Employees
Conducting Training
Level-Based Training System
We provide training for new employees, follow-up training, training for mid-level employees, training for executives, career design training, training for people newly appointed to management positions, and training for people in management positions.
By providing employees with opportunities to independently think about the roles required at each level and their own future visions, our program aims to cultivate human resources capable of discovering and solving their own problems, and to raise awareness and invigorate the entire Group.
Volunteer Training Program
Since 2012, we have continued to offer volunteer activities in the areas affected by the Great East Japan Earthquake as part of our new employee training.
Through their various experiences in the disaster-stricken area, they learn the value of teamwork and life, and also have the opportunity to grow as members of society.
Note: These activities were suspended from 2020 to 2022 due to COVID-19.
Diversity Training (LGBT)
We invite instructors from ReBit, an NPO, to help our employees develop a deeper understanding about LGBT in the aim of providing a workplace that is comfortable for everyone. This training is also offered via Zoom, and many employees, including board members, gained a better understanding about gender and diversity.
Joint Study Activities with Toyota Motor East Japan (*)
AKITAKENHAKKO KOGYO participates in "Improvement Activities for Food Manufacturers," which are supported by Akita Prefecture. From June to November 2020, we cooperated with Toyota Motor East Japan, Inc., engaging in mutual study activities aimed at improving the work environment and increasing productivity.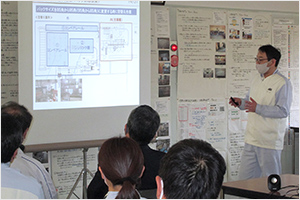 We will continue striving to realize a good working environment for our employees and to develop human resources who are capable of self-knowledge and improvement. By producing high-quality sake, we will also sustain our efforts to be a company that society needs.
*These are activities in which Toyota Motor East Japan, in cooperation with the government, learns about manufacturing at local companies in the Tohoku region and works together with them to improve operational efficiency at manufacturing sites, from the purchase of raw materials to production and shipping. These activities aim to expand the circle of improvement in Tohoku while fostering a climate of mutually "teaching and being taught."
Support for Personal Development
Recommending Correspondence Courses and Various Seminars
We support personal development through participation in various seminars, public lectures, and academic societies. We also encourage all employees to take correspondence courses, and provide a partial subsidy for people who complete them. This system is useful for acquiring qualifications and knowledge.
Career Development Support
Internal Free Agent (FA) System
Under this system, eligible employees (qualified employees) who meet certain criteria, such as length of employment at their current position and satisfactory performance evaluations over the past three years, can go directly to the Human Resources Department and specify a department to which they wish to be transferred. Eligible employees who have declared their interest can be transferred to the department of their choice after an interview (presentation) with a board member and selection process. The system is designed to meet individual employees' career plans.
Internal Recruitment System
Under this system, when the Company requires people for a posting, such as for a project that cuts across the Company, it will publicly invite applicants to apply for the post (such as diversity projects and volunteer dispatching). We aim to encourage and motivate employees to take initiative, as well as to foster a bottom-up culture.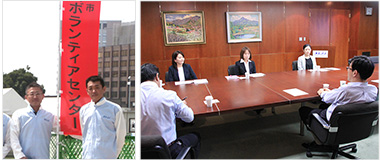 Self-Reporting System
Once a year, superiors and subordinates share the status of current work and issues, and report on their future career plans. We aim to improve the work environment while taking subordinates' wishes into account.
Brief Study Tour
This program allows employees who have been with the company for three years or more (excluding management staff) to experience work that is different from the type of work they are currently doing at their current job category or office for a period of approximately two weeks. The objective is to acquire a broad perspective and adaptability by experiencing the work in the field and understanding that reality, and to learn how to solve problems from multiple perspectives.
Recruiting
Recruiting People with Disabilities
We cooperate with organizations that support employment of people with disabilities. We actively work toward workplace retention and the stable working, helping people with disabilities achieve social independence and live a normal life. AKITAKENHAKKO KOGYO provides work experience opportunities to help students of support schools learn the knowledge and skills necessary for their future social and professional lives, as well as how to interact with others.
Fair and Equal Treatment
We provide fair and equal treatment to part-time, fixed-term, and indefinite-term employees, including bonuses based on years of service, participation in work-related accident compensation, various allowances for overtime, late nights, shift work, and some special leave.
Initiatives to Promote the Participation and Advancement of Women
As a measure to help promote the participation and advancement of women, we support autonomous career and skills development.
promote the participation and advancement of women.
Outside Training Programs for Female Employees
This system provides an environment that enables female employees who aspire to become leaders to take outside training courses to acquire the skills necessary to become leaders. We develop women leaders by helping them solve problems and achieve their goals.
Career Vision System for Female Employees (Mentor System)
This is a system in which female employees who wish to discuss various problems and concerns become mentees (students) and meet regularly with a mentor (teacher) who is an employee in charge of guidance.
The mentors consult with the mentees on various problems and concerns, and help them develop their careers and improve their motivation to take on challenges at work. This system also improves mentors' human resource development and management skills and provides an opportunity for them to think about their future career development.
Active Promotion and Recruitment of Women
In addition to selecting female employees with motivation on manufacturing sites to take charge of key tasks that will enhance their experience and skills, the Company actively promotes female employees to management positions and hires new female graduates.
Percentage of women in management positions
:3.5% (as of December 31, 2021)
Percentage of female new graduate hires
:35.5% (hired from 2019 to 2021)
Projects by Female Employees
We aim to promote the participation and advancement of women through activities that utilize the unique perspectives of women.
WINT
We launched this project in 2020 to promote a climate in which women can play an active role. WINT, which is short for Women's INnovation for Tomorrow, is the name of the team. The name incorporates the meaning that innovation will be born from the "individuality" of each of the eight members, creating the future of the Oenon Group and the future of all employees. We hold the "Women's Forum" to discuss with female employees efforts to promote the participation and advancement of women, as well as to exchange information with other companies. We also propose ways to improve the working environment for women and men alike.
A-ribbon
This is a team of female employees who work at AKITAKENHAKKO KOGYO, established in 2019 with the goal of "connecting Akita through sake." The team participates in events that support child-rearing and the "Akita Food Meeting" the prefecture has established. The team aims to "unbeigu Akita*" while promoting products that members have been involved in.
*Meaning to "invigorate Akita"
Good Working Environment
Initiatives Targeting a Work-Life Balance
We are working to promoting awareness throughout the organization and the create a favorable work environment that leads to work-life balance. We will create a working environment where both the Company and employees can grow together, by realizing a way of working and living that fulfills both.
Promoting the Taking of Regular Paid Leave and Reducing Overtime Work
In our performance target management system (performance evaluations) for line management personnel, we set a target category on promoting work-life balance. Our aim is to promote awareness and behavior change among management personnel. Supervisors manage their subordinates toward such objectives as increasing the percentage of employees taking paid leave, reducing overtime work, and encouraging male employees to take childcare leave.
We have also set a "no overtime day" to encourage greater work efficiency and regular work hours.
Initiatives Targeting the "New Normal"
We have introduced a work-from-home system. In 2021, we also launched a secondary and concurrent employment system to help employees acquire various skills, gain experience, and proactively develop their careers without leaving the Company. We put in place a system that allows employees to take paid leave in hourly increments, with the objectives of promoting work-life balance and encouraging employees to take annual leave.
Balancing Work and Childcare or Treatment
System of Shorter Working Hours
This system allows employees who have returned from childcare leave and have a child who has not yet graduated from elementary school to shorten their scheduled daily work hours by up to two hours. We support our employees in balancing work and child rearing.
Promoting the Use of Childcare Leave
The HR department encourages eligible employees to take childcare leave and promotes the practice with their supervisors. We also actively encourage male employees to take advantage of this leave.
In addition to women taking childcare leave, at Oenon Holdings and GODO SHUSEI, one in two male employees also take childcare leave.
We are striving to create a good working environment where employees can balance work and child rearing.
Rate of employees taking childcare leave (January–December 2021): 54.5% for men, 100% for women
Childrearing Subsidy System
To encourage both male and female employees to take childcare leave, we have introduced our own childcare leave benefit system. When an employee who is the head of the household takes childcare leave, a mutual aid society pays the difference between the employee's base salary and the childcare leave benefit for up to one month.  
Balancing Long-Term Treatment and Work
We have established a basic policy regarding support for employees suffering from illnesses to help them balance treatment and work. Employees who have diseases that require repetitive and ongoing long-term treatment(*) and are willing to work while undergoing treatment will be supported based on their willingness, ability, and safety considerations. We aim to create a workplace culture in which all employees understand the significance and importance of balancing work and treatment, and in which they can work comfortably with the support of those around them, as well as to realize a society in which all employees can play an active role with a sense of purpose in their lives.
*Cancer, stroke, heart disease, diabetes, infertility, and intractable diseases designated by the Act on Medical Care for Patients with Intractable Diseases
Expansion of Special Leave Programs
We have a "refresh leave" system that allows employees to take a long period of leave after every five years of service. We also offer "volunteer leave," which can be used to take part in volunteer activities, and "special paid leave." This type of leave can be used in emergencies in the event of personal injury or illness, for nursing care, or for other types of care. We have also established a childcare leave system. This temporary leave system, which is for employees with children who have not yet entered elementary school, aims to help employees transition smoothly between taking a leave of absence and returning to work. Through this leave, we hope to encourage healthy and fulfilling lives, as well as to provide motivation and promote diverse work styles.
Health Considerations
Promoting Employee Awareness of Drinking in Moderation
We have formulated "Guidelines on Employee Alcohol Consumption."
We encourage employees to be aware of their status as employees of a company that handles alcoholic beverages and ensure that they practice drinking in moderation.
Data Collection
Average overtime hours:6.0 hours/month (Oenon Holdings and GODO SHUSEI in 2021)
Percentage of paid leave taken:82.4% (Oenon Holdings and GODO SHUSEI in 2021)
New graduate turnover:9.6%(Oenon Holdings and GODO SHUSEI, 2019–2021)
Percentage of new graduate hires, percentage of female hires:64.5% for men, 35.5% for women (Oenon Holdings and GODO SHUSEI, 2019–2021)