Environmental Management System
The Oenon Group's two factories (Kurume and Yuzawa) have obtained certification under ISO 14001 the international standard for environmental management systems. We contribute toward the realization of a sustainable society by reducing environmental impact and through environmental preservation activities.
Environmental Initiatives
Energy Conservation Initiatives
Reducing CO2 Emissions by Introducing an Autonomous Heat Generation System
In 2019, we boosted capacity at the alcohol distillation facility of our Shimizu Factory. When doing so, we introduced an autonomous heat generation system that depressurizes the waste hot water generated during alcohol distillation, compresses it with a compressor, and reuses it as heat. As a result, this equipment achieves a 40% decrease in energy costs and a 35% annual reduction in CO2 emissions compared with the factory's existing distillation equipment.
As a result, we reduced CO2 emissions by around 19,000 tons between October 2019 and December 2021.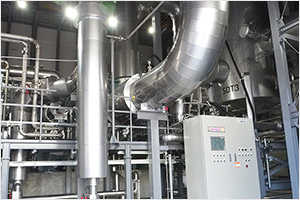 Upgrade to Our Distillery Effluent Concentrator, Reduction of Industrial Waste, Fuel Use
At our Kurume Factory, waste liquid from the distillation of shochu is concentrated in a distillery effluent concentrator. Some of the result is used in animal feed or as fuel for biomass generation.
We upgraded this equipment in 2018, raising its concentration efficiency by 7%, allowing the waste liquid from shochu distillation to be reduced in volume even further. In addition, the updated equipment compresses, raises the temperature of, and circulates the internally generated steam to reduce fuel consumption significantly.
Between January 2018 and December 2021, the crude oil equivalent amount of fuel used fell by around 1,920 kiloliters, and CO2 emissions were down by approximately 520 tons.
Reduction in CO2 Emissions due to Factory Boiler Equipment Upgrades
At each of the Group's factories, we are sequentially replacing boilers with more environmentally friendly and efficient models, in the aim of reducing CO2 emissions. Our initiatives at individual factories are described below.
At the Kurume Factory, in 2020 we switched form the use of fuel oil to more environmentally friendly liquified natural gas, and brought and began running a gas boiler with boiler efficiency of 102%. Due to the boiler upgrade and fuel conversion, we reduced annual CO2 emissions in 2021 by 3,270 tons, outpacing our annual reduction target of 3,000 tons. The upgrade also addressed the heat situation, improving the working environment.
The Nirasaki Factory upgraded its fuel oil boilers in 2020, resulting in a 2% improvement in boiler efficiency and an annual CO2 reduction of 122 tons in 2021.
In 2021, the Asahikawa Factory (Taisetsu no Kura) upgraded to a gas boiler with higher operating efficiency. This upgrade reduced annual CO2 emissions by 10 tons in 2021.
Switching out Company Cars for Hybrids and Other Eco-Friendly Vehicles
When lease agreements on Company cars come up for renewal, we are gradually switching out gasoline-powered vehicles in favor of hybrids, fuel-efficient mini cars, and other types of eco-friendly vehicles, as usage needs dictate.
As of September 2022, eco-friendly vehicles accounted for around 70% of our fleet.
Environmental Protection Initiatives
Wastewater Treatment Initiatives
At each of our factories, we strive to prevent water pollution by installing wastewater treatment facilities that clean wastewater and return it to nature.
At our Tokyo Factory, we have added a pretreatment facility for wastewater treatment to reduce odor and improve wastewater purification capacity. Going forward, we will continue to promote the internal processing of waste and strive to reduce environmental impact.
Reducing CO2 through a Modal Shift
In 2020, we switched to rail freight transport to move products commissioned by Group companies and manufactured by AKITAKENHAKKO KOGYO from Akita Prefecture to northern Tohoku the Kansai region.
Following this shift, CO2 emitted during transportation fell by 83 tons in 2021 compared with the previous method of using trucks.
Conversion and Management of CFC-Using Equipment
For air conditioning and refrigeration equipment that use chlorofluorocarbons (CFCs), we are gradually switching to CFC alternatives that have lower ozone depletion potential. In the future, we will consider introducing environmentally friendly equipment, with the goal of becoming CFC-free.
In addition, we have created a control ledger for equipment current equipment that uses CFCs. We are also tightening management to prevent CFC gases from leaking. Thorough management includes simple periodic inspections.
Industry-First Initiative(*1) to Transition to PET Bottles Made Using Recycled Materials
In 2021, we shifted the use of PET bottles (*2) for shochu and other spirits produced at the Tokyo, Asahikawa, Kurume, and Yuzawa factories to containers with 20% of materials recycled using the chemical recycling method (*3). This move reduced annual CO2 emissions from the production of PET bottles by 15%, or approximately 500 tons, compared with the use of PET bottles containing no recycled materials.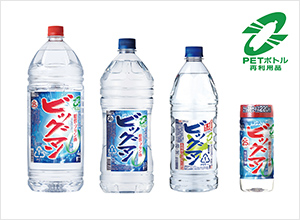 Furthermore, in April 2022 we began transitioning to containers that use an even higher percentage of recycled materials, raising the ratio from 20% to 30%. This increased percentage will result in approximately 23% less CO2 emissions, or around 695 tons, compared to PET bottles that do not use recycled materials.
Between May and December 2021, we reduced CO2 emissions by approximately 272 tons.
※1. This is the first instance in the alcoholic beverage industry of PET bottles for shochu products being made of materials recycled using the chemical recycling method.
※2. 200ml, 220ml, 1,800ml, 2,700ml, 4,000ml
※3. This is a recycling method in which used PET bottles that have been collected are broken down and refined into raw or intermediate materials for PET resin, which are then polymerized to make new PET resin. The PET resin can be recycled to the same high quality as virgin resin and can be recycled repeatedly.
Circulation and Reuse of Cooling Water
In 2019, the Shimizu Factory installed a cooling tower to cool hot water. This allowed the factory to circulate and reuse most of the cooling water used in its alcohol distillation facility. This move reduced the use of factory water by 1 million cubic meters between October 2019 and December 2021.
Contributing to the Development of Elemental Technologies for Bioprocesses That Reduce Environmental Impact as a "Zero Emissions Challenge Company"
The Ministry of Economy, Trade and Industry selected GODO SHUSEI as a "zero emissions challenge company(*)," defining it as a company embracing revolutionary innovations to realize a decarbonized society.
In the aims to contribute toward the development of new technologies that can reduce environmental impact in the fermentation industry, where Japan has traditionally excelled, and promoting fermentation-based "bio-manufacturing," NEDO is running a project for the "development of production technology for bio-derived products that accelerates the realization of carbon recycling." We are participating in the "research and development of a data-driven integrated bioproduction management system" for this project, and are engaging in the cultivation of filamentous bacteria for industrial protein production. Specifically, we are working to reduce environmental impact in bio-manufacturing with useful microorganisms by verifying protein production processes on an industrial scale. The Enzymes and Pharmaceuticals Laboratory conducted productivity verification of the improved koji mold developed at Tohoku University and achieved the targeted 50% improvement in protein productivity. We also obtained results showing the superiority of the improved koji mold from the producer's point of view in terms of an improved rate of protein recovery from the culture medium. At a pilot plant that was completed in March 2022, verification testing is currently underway with a view to scaling up to actual production levels. With the future aim of enhancing improved koji mold on a production scale, we will develop technologies and breed various analytical methods, including omics analysis, utilizing the aforementioned verification, to further improve production efficiency, reduce environmental impact, and promote the development of bio-manufacturing.
* This refers to a company involved in one of four Ministry of Economy, Trade and Industry (METI) businesses and 28 New Energy and Industrial Technology Development Organization (NEDO) projects linked to the 39 themes of the METI "Environment Innovation Strategy."
Working to Preserve the Environment through Our Products
We donate a portion of our sales from Big Man Premium, a kou-type shochu, to the Hokkaido Environment Foundation. The donated funds help to protect Hokkaido's natural environment.
Reducing Food Loss by Developing Products That Utilize Surplus Raw Materials
On October 11, 2022, we launched a limited-edition product called Sunao na Koucha no Osake Unsweetened. This tea-based liquor allows us to make use of leftover Ceylon tea leaves rather than discarding them. The packaging honestly and truthfully discloses that surplus Ceylon tea leaves are used as raw materials and that the product was created out of the desire to eliminate "mottainai" (wastefulness).