President's Message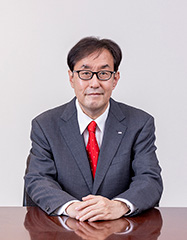 I would like to take this opportunity to express my sincere gratitude and appreciation to our investors for your support.
We at the Oenon Group are guided by our Corporate Group Philosophy in conducting our biotechnology-based business, which focuses on fermentation and other technologies. We place topmost importance on delivering safe and secure products to our customers, maintaining a combined customer- and profit-oriented focus throughout our operations. We also work to maximize the Group's corporate value and quality of management through cocreation of future value.
During fiscal 2017, ending December 31, 2017, we will continue to forge ahead vigorously without fearing the constant changes occurring in our operating environment and without unnecessarily tying ourselves to past conventions. Our actions will follow a cycle based on three principles: decide swiftly, act nimbly and engage in honest reflection. Furthermore, we will undertake a full-scale evaluation of the Company, based on the sangen shugi principle (genba, genjitsu, genbutsu). This idea, the "three reals philosophy," is sometimes expressed in English as "the actual place, the actual situation and the actual goods." We will keep this principle in mind as we actively pursue innovation in the Group.
In our core alcoholic beverages segment, we will make products available for purchase nearby and launch attractive new products by taking a customer-oriented approach, thereby maximizing customer satisfaction and our profits.
In particular, we will roll out measures aimed at expanding sales an increasing the penetration of Tantakatan, which marks the 25th anniversary of its launch this year, and Hakata no Hana Mugi, which celebrates its 35th year. We aim to make these brands more familiar to customers, increasing their affinity.
In addition to continuing the previous year's focus on local brands that exert regional strengths, we will pursue an area marketing strategy that gives due consideration to regional characteristics. By clarifying vigorous brands, we will invest our management resources in a concentrated manner and conduct marketing that will lead to future value.
We plan to proactively develop the enzymes and pharmaceuticals segment. We aim to further expand sales of our mainstay, lactase, by launching new products and make capital investments to acquire a new production support business.
We have formulated Long-Term Vision 100, leading up to our 100th anniversary of establishment in 2024, and Medium-Term Management Plan 2020—our first step in realizing this vision. Our numerical targets for fiscal 2020 are net sales of ¥100 billion, ordinary income of ¥5 billion, an ordinary income margin of 5%, dividends per share of ¥10 and ROE of 10% or more. Guided by these objectives, we will push forward with management efforts to enhance the corporate value of the Group.
I ask for your ongoing support and encouragement of these endeavors.
March 2017
Yuji Nishinaga
President and CEO
Oenon Holdings, Inc.