Enzymes and Pharmaceuticals,
GODO SHUSEI Co., Ltd.
We are contributing to healthy life through our fermentation technology.
With the fermentation technology nurtured for many years through alcoholic beverage as the core technology, we manufacture and offer Enzymes and Active Pharmaceutical Ingredients. As an important business to play a role in OENON Group, the research and development, production and sales are integrated to continue to offer characteristic products.
Enzymes
Believing in the unlimited possibility of microorganism that is present in nature, we offer enzymes for industrial use including the one applicable to food.
Major products
For industrial use
Lactose hydrolytic enzyme (Lactase):[GODO-YNL2]
High Fructose Corn Syrup (HFCS) manufacturing enzyme (Glucose isomelase):
[GODO-AGl (immobilized, liquid)
Dietary fiber processing enzyme (Cellulase):
[GODO-TCF]
Starch processing enzyme (Isoamylase):
[GODO-FIA]
Reagent for research
Cell Dispersion enzyme (Protease):[Dispase®]
Active Pharmaceutical Ingredients
We offer active pharmaceutical ingredients that can be used safely because of the traceability and quality system management.
Major products
Hyperlipidemia treatment
Diabetes mellitus treatment
Research and Development
Enzymes and Pharmaceuticals Laboratory
Location:Matsudo-city, Chiba
At Enzymes and Pharmaceuticals Laboratory, the research and development from the search of useful microorganism to bench scale test production that leads to mutual creation of value in the future is going on under the consistent and highly efficient research system.
The specialist staffs with long research and technology experiences in each area conduct research and development based on the unique aim and concept while working in liaison with external organs such as conducting joint research with universities and other enterprises.

Production technology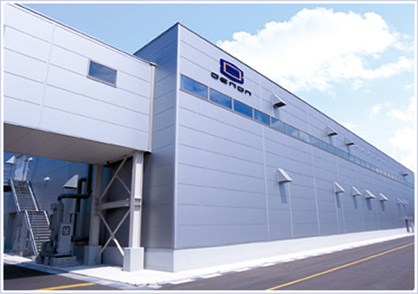 Enzymes and Pharmaceuticals Factory
Location:Hachinohe-city, Aomori
A broad lineup of products that include enzymes and active pharmaceuticals ingredients, are produced at Enzymes and Pharmaceuticals Factory. The plant aims at promptly meeting the ever-changing market needs by offering the global market-targeted products manufactured by the state-of-the-art equipment that fully takes advantage of sophisticated technology. Due to meet the secure and safe that customer satisfy, the fermentation and purification facilities that covered the quality level required by ISO and partly GMP, such as acquired ISO22000 certificate, are installed. Furthermore, this factory is environmentally conscious that possess the facilities under activated deodorization, sterilization and waste water processing system.
Inquiry to

GODO SHUSEI Co., Ltd.
International Business Department
6-2-10, Ginza, Chuo-ku, Tokyo 104-8162 JAPAN
Phone: +81 (0) 3-3575-2735
Fax: +81 (0) 3-3575-2765